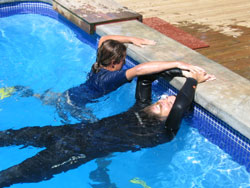 PADI IDCs can now take advantage of the newly improved PADI Dive Shop Locator and the progression of the Optional I upgrade, which now called Premium Listing. The main PADI website recently had a refresh and the Dive Shop Locator web tool received similar redesign treatment. So according to PADI the Premium Listing and Side Bar Ad has more enhanced value for dive centres willing to upgrade their listing.
The dive shop locator now resembles the Google Search results where the 'upgraded' dive centres are featured on the right hand side of the screen with enhanced details available to browsers. How long will it be before they charge for the top of the page listing in a similar way that Google charges more for the best screen real-estate?
The Current Dive Shop Locater Listing includes:
Name, address, phone number interactive map to easily locate you.
Social media links
Integrated TripAdvisor Review function capable of social media sharing.
The new Premium Listing Features are:
One image now displayed directly on the main listing making your business more attractive for all to see!
Expandable business content to further advertise your operation.
100% mobile friendly, so even those on the go can find your center!
As a facility that already has both the Sponsored Side Bar ads and the Premium Listing, there is important information you need to know:
Sponsored Side Bar ads will automatically be rolled over to the new DSL at a rate of US$30 per quarter.
Side Bar ads are available on a first come first serve basis and appear in order of purchase date on the All PADI Stores Nearby tab.*
A link to your Premium Listing details will appear on your Sponsored Side Bar ad.
All of the details you currently have entered for your facility will automatically roll over to the new DSL.
Image on main listing – The default image for your listing will be the image you have uploaded in the image one position. If you do nothing, this is the image that will be displayed. If you would like to change this, please log in to the Pros site as the shop, click on My Account, then select Premium Listing (formally Optional I) – manage my details. To change the image that is displayed, click edit, update 1. Please upload only type 'jpg' or 'gif' files that are under 300,000 bytes in size (300K) and are in a landscape format. Vertical format images will be auto re-sized and will not look good. The ratio is a 4: 3.
Trip Advisor Reviews option – if you'd like to have the Trip Advisor icon and a link to your reviews, you can now activate this new feature. In the Pros site also under My Account, click on the Social Media settings link.
Whether you should upgrade is a marketing decision you need to think about now but